Insoles
Sore feet, knees and back problems can be corrected and/or prevented by wearing a good insole. By supporting the joints, straps and shape of the foot, a better posture is obtained that can resolve the complaints.
Depending on your wishes and needs, the insole can be constructed from different materials. The purpose of the insoles can be to support, relieve, or, if necessary, correct. Each insole is individually tailored to your feet. This way we are sure that you will get the best insoles for your needs. To help you as quickly as possible, we aim to deliver the insoles in just 4 working days.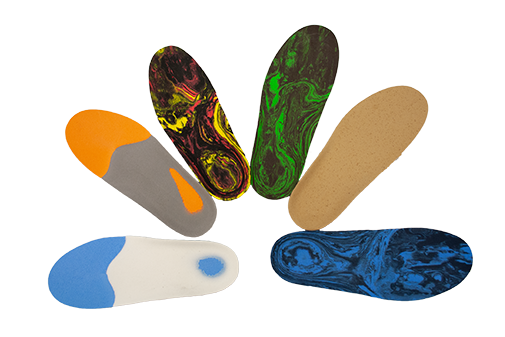 There are various options and materials possible for insoles:
Cork insoles
Leather insoles
Sports insoles
Insoles adapted to your work
Insoles for walking
Insoles for children
Finer insoles for women


How can I obtain insoles?
Measurement is standard by means of a foam print. After a clinical examination, it is then determined which type of insole is needed. We can build the insole in two ways:
Classic method: Classic insoles are manufactured and glued manually. This is a less popular production process today, but certainly still optional.
Milling: This is one of the fastest methods to produce insoles. After measurement via foam print, this is scanned, and if necessary we apply digital corrections. The insole is then milled out. Various materials can easily be used by milling. This is ideal when the insole has to meet different needs.
Do you already have insoles, but do you always experience the same problems or persistent complaints? An additional gait analysis may then be required. You then walk over a pressure plate, and this way we get more insight about the load on your foot while walking. By comparing this data when walking with or without an insole, we can make the necessary adjustments to your insole.
If you would like a gait analysis, you can make an appointment with one of our experts.


Reimbursement of insoles
With us you pay a fixed amount including consultations, guarantee and service. The price of the insoles is 140 euros, part of which is reimbursed by the health insurance fund. Reimbursement is only possible for custom-made insoles, on prescription from a medical specialist, see frequently asked questions.
The renewal period for this reimbursement depends on the age. Up to and including 18 years of age, people are entitled to partial reimbursement from the health insurance fund each year. From the age of 18, this is every 2 years.
You will receive a discount for a second pair ordered within 3 months after your first pair. We can offer your second pair at a reduced price of 95 euros, without a prescription, and therefore also without reimbursement.


Different types of insoles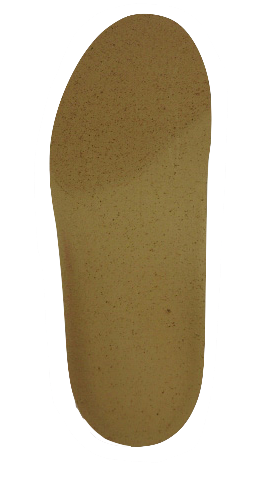 Cork insoles
These types of insoles are primarily applicable to heavier patients. Thanks to the higher shore value, they provide maximum support. These soles can also provide a solution for diabetic patients, people with heavyflat or kinked feet, or for general use. The cork soles can be provided with a soft heel cup for extra shock absorption and can also be milled thin to fit into all types of shoes.

Sports insoles
These soles are ideal for wearing in sports shoes. It is possible to supply the sole without covering, so that the sole can be kept as thin as possible and yet provide maximum support. By working with only 1 material, the sole is washable. It is also possible to place a softer pad or bar, which means that the sole is then covered and slightly thicker.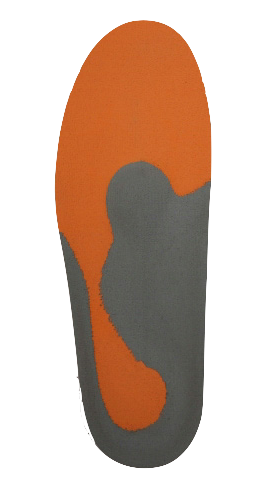 Soft insoles
Our soft soles are ideal for people with a standing profession or patients with leg fever in the lower legs. The entire bottom layer is made of a soft and shock-absorbing material, while the medial vault and the heel cup are made of hard material. These soles are always supplied with upholstery. However, soft soles are not suitable for heavy, obese patients, due to material fatigue over time.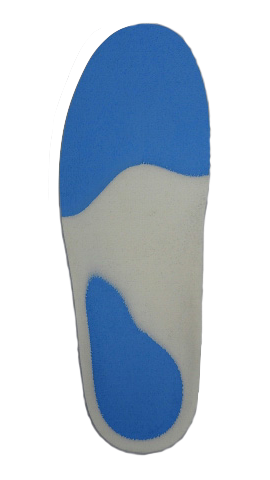 Extra soft insoles
These insoles are ideal for lighter people with a standing occupation, children or patients with leg fever in the lower legs. Thanks to the soft and shock-absorbing layer under the full sole, you can enjoy maximum comfort.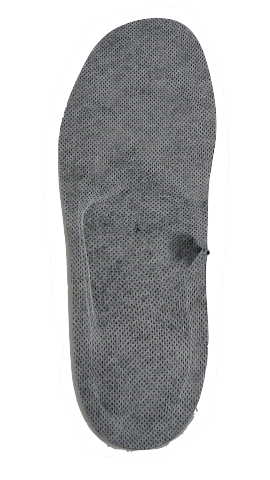 Thin insoles
Thin insoles are ideal for dressed shoes, light-heeled shoes or for people with heel spurs. This type of insoles are not suitable for more serious conditions, instability of the ankles or sports. These preformed soles are made from a thin material and are always supplied with upholstery.

Cork tray
Cork trays are primarily for children with flat feet. Thanks to the deep heel cup, there is good stabilisation of the ankles. A pronation or supination angle can also be placed underneath.

Prefab
Prefab soles are ideal for sports or intense activities. These light soles are ideal for shock absorption and relieve calf cramps or discomfort during long periods of standing.